A game that parents want
their kids to play!
Since Smart Numbers launched, many parents contacted us. They mentioned that Smart Numbers is finally a game they actually want their children to play because the content will help their basic math.
​
This was a surprise as the game was not designed for children - but it is very true that playing

Smart Numbers is a great way to brush up on your basic arithmetic. The level of math required is quite simple - adding and subtracting single digit numbers (at advanced levels larger numbers and multiply/divide are introduced too). As well as the math, the game also requires a degree of logical thinking - looking at which numbers will fall when you make a move, so you can play your moves more effectively.
​
In our experience the game difficulty is well suited to early teens and upwards, but also playable by 9 or 10 year olds who are strong at math & analytical thinking.

The game features easy-to-follow tutorials which help anyone quickly learn the basics.
​
Today's world has almost totally removed the need to do mental arithmetic. Even in school, calculators become the go-to solution for kids before they have established strong number skills. Playing a couple of levels of Smart Numbers every day flexes the numerical muscle memory of the brain and is a fun way to combat this problem.
​
Many children have a fear of math. It may be that their first expe

rience was too overwhelming, or they saw friends racing ahead which knocked their confidence. The video game format is universally appealing to children and in this way Smart Numbers is a medium that can easily remove that fear. And with its positive reward system for completing levels it can also help to build confidence.
​
Another surprising comment that we hear from parents playing the game is that they like to play WITH their child. Especially on an iPad where both can look at a level at the same time and help find the solution together. There is no time limit on the large majority of levels so parent and child can discuss the next move / consider different options / make a decision together on where the next best swipe will be. We have heard of children as young as 6 or 7 playing this way.
In conclusion, Smart Numbers is not an educational tool, but it is a great way to make math fun, so spread the word: Finally a game you'll be happy for your kids are playing!
​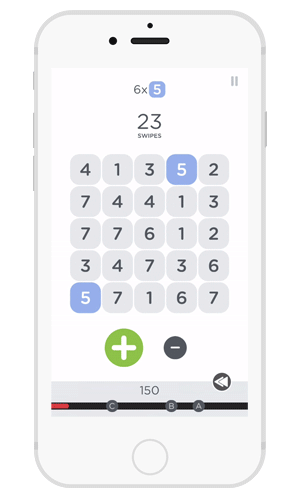 Designed with calming space, colour, and relaxing music, this game is a pleasure to behold
150 levels are broken into 10 sections of 15 - each with distinctive gameplay. Plus 30 'Genius' levels for all Einsteins to enjoy
Connect with your Facebook friends to compete for medals and take your place at the top of the 'Who's Smartest' leaderboard.
From teens to the over 65's, fill the day's empty moments with a delightful mind challenge
Designed specifically for both phone and tablet, the game is ideal for on-the-go fun
Completely free to download, with no annoying pop-up ads, and purely optional in-app purchases.