"A beautiful number-crunching puzzler"

- Apple
Finally a game that

requires
you to be smart!
Smart Numbers is an original game that mixes two popular favourites, Crosswords and Sudoku. Players have dubbed it 'Candy Crush' for smart people!

Gameplay requires intelligence, patience and strategy. It is simple enough for everyone to learn, from school-kids to the silver-haired, but guaranteed to get your gray matter humming!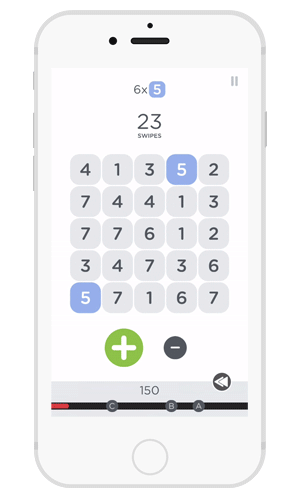 Each level contains a different grid and objective. Simply swipe to add or subtract numbers, depending on the objective.
​
The difficulty and strategy increases as you progress through the 150 varied levels.
​
Calculate strategies to score highly and earn the best grades - are you an A+ student? Unlock 30 'GENIUS' levels for the greatest test of your mathematical prowess.
The game is aimed at anyone looking for something a little more cerebral than coloured candies and cute characters. There are players of all ages, from teens to over 65's. The statistics are rather impressive .... People play an average for 30-45 minutes a day over 2 or 3 sessions. Interestingly, many parents have mentioned that it's a game they actually want their children to play because the content will help their basic math.
​
Smart Numbers keeps cognitive functions active in a fun way. Your skill on each level is rewarded with a grade, from a C up to an A+. Replaying levels to achieve A+ becomes one of the most rewarding and addicting challenges.
​
And you can connect with your Facebook friends to compare scores, win medals, and compete in the 'Who's Smartest' leaderboard!
Designed with calming space, colour, and relaxing music, this game is a pleasure to behold
150 levels are broken into 10 sections of 15 - each with distinctive gameplay. Plus 30 'Genius' levels for all Einsteins to enjoy
Connect with your Facebook friends to compete for medals and take your place at the top of the 'Who's Smartest' leaderboard.
From teens to the over 65's, fill the day's empty moments with a delightful mind challenge
Designed specifically for both phone and tablet, the game is ideal for on-the-go fun
Completely free to download, with no annoying pop-up ads, and purely optional in-app purchases.